Growing up in Taiwan, she was deeply influenced by her mother, a calligrapher, and father, a painter. Ying followed in her parents' footsteps and attended the National Taiwan University of Arts. After gaining her bachelor's degree in Visual Communication Design, Ying bought an one-way-ticket to New York to further her study at the Pratt Institute and finished with a master's degree in Communication Design. 
She was immediately hooked upon taking her first calligraphy class and when she was studying at the 
Type@Cooper Extended Program her true passion for lettering came into focus. 
Since then she has been creating logotypes and lettering works for a variety of brands and publications while continuing to contribute her design skill to the world of advertising where she has produced award winning campaigns.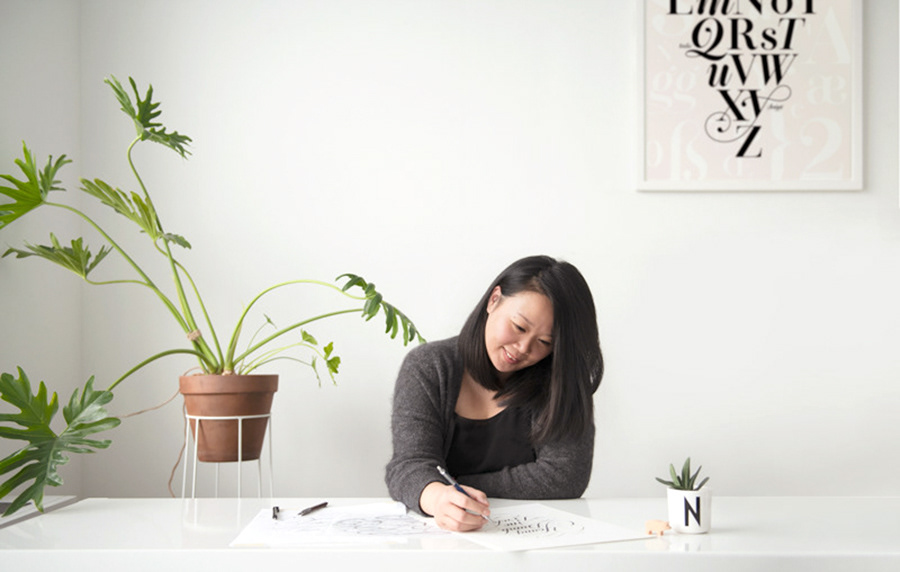 I'm always up for fun projects!
Drop me a line and let's talk :-)
I will get back to you as soon as possible!
ME BEING A RESPONSIBLE ADULT:
Freelance Associate Creative Director
@ TBWA\WorldHe

alth

—

 11/2018 - Current 
Group Art Supervisor
@ Biolumina 

—

 06/2018 - 11/2018
Art Supervisor
@ FCB 

—

 02/2017 - 05/2018
Art Supervisor
@ Concentric 

—

 04/2016 - 01/2017
Art Director
@ Corbett (TBWA\WorldHealth) 

—

02/2015 - 03/2016
Freelancer
 

— 

02/2014 - 02/2015
 (Freelance Senior Art Director @ The Cement Bloc, Williams New York / Freelance Art Director @ Moda Operandi, CAHG, Factory 360 / Freelance Designer @ Partners & Partners, DeBeer/Forevermark)
Art Director
@ CAHG (TBWA\WorldHealth) 

— 

06/2013- 02/2014
Designer
@ Benard Design 

— 

02/2012-05/2013
Package Design Teaching Assistant
@ Pratt Institute 

— 

09/09-02/2010
SOMETIMES COOL THINGS HAPPEN:
"Lettering: A Process of Finding Consistency in Space and Shapes" Talk
 

— TypeLab @ 2020 Typographics Conference 
Guest Speaker (Lettering Basics) @ SVA
 

—

Basic Type 1 (teacher: Douglas Riccardi) / 2019 Nov
Featured Artist
 

— 

2019 Goodtype Follow Friday
"Flourish Script Lettering" Demonstration
 

—

TypeLab @ 2018 Typographics Conference 
Best Launch Campaign
/ Client: Gilead - Harvoni 

— 

Manny Awards 2016 
Professional Campaign Gold Winner
/ Client: Gilead - Sovoldi 

— 

PM360
Brand Team of the Year
/ Client: Gilead - Sovoldi 

— 

25th Anniversary Manny Awards
The Best Illustration
- Self Initiation & For Sale 

— 

2012 Greater China Illustration Awards 
2011 Illustration Exhibition
- New York City Fusion Arts Museum
Featured Artist of July 
— 

2011 Taipei Artist Collective 
2010 Winner in Illustration
 

— 

Annobooks International Student Design Competition 
Government-sponsored art exhibition
 

— 

60-year Collection : 4 Generations Exhibition 
Silver Award
 

— 

2009 MSN X Gigabyte Laptop Graffiti Competition 
Nominated in Digital Media 
— 

2006 Taiwan Young Designers' Exhibition 
​​​​​​​
ONCE UPON A TIME, I STUDIED AT:
Cooper Union
— 

Certificate in Typeface Design / New York , USA /2015
Pratt Institute
— 

Master in Communication Design / New York, USA / 2010
Taiwan University of Arts
— 

Bachelor in Visual Communication Design / Taipei, Taiwan / 2006