UP YOUR SCRIPT LETTERING GAME!
Strengthen the foundation, sharpen the techniques, train the observation skill, and develop a personal study in this 4-week bootcamp!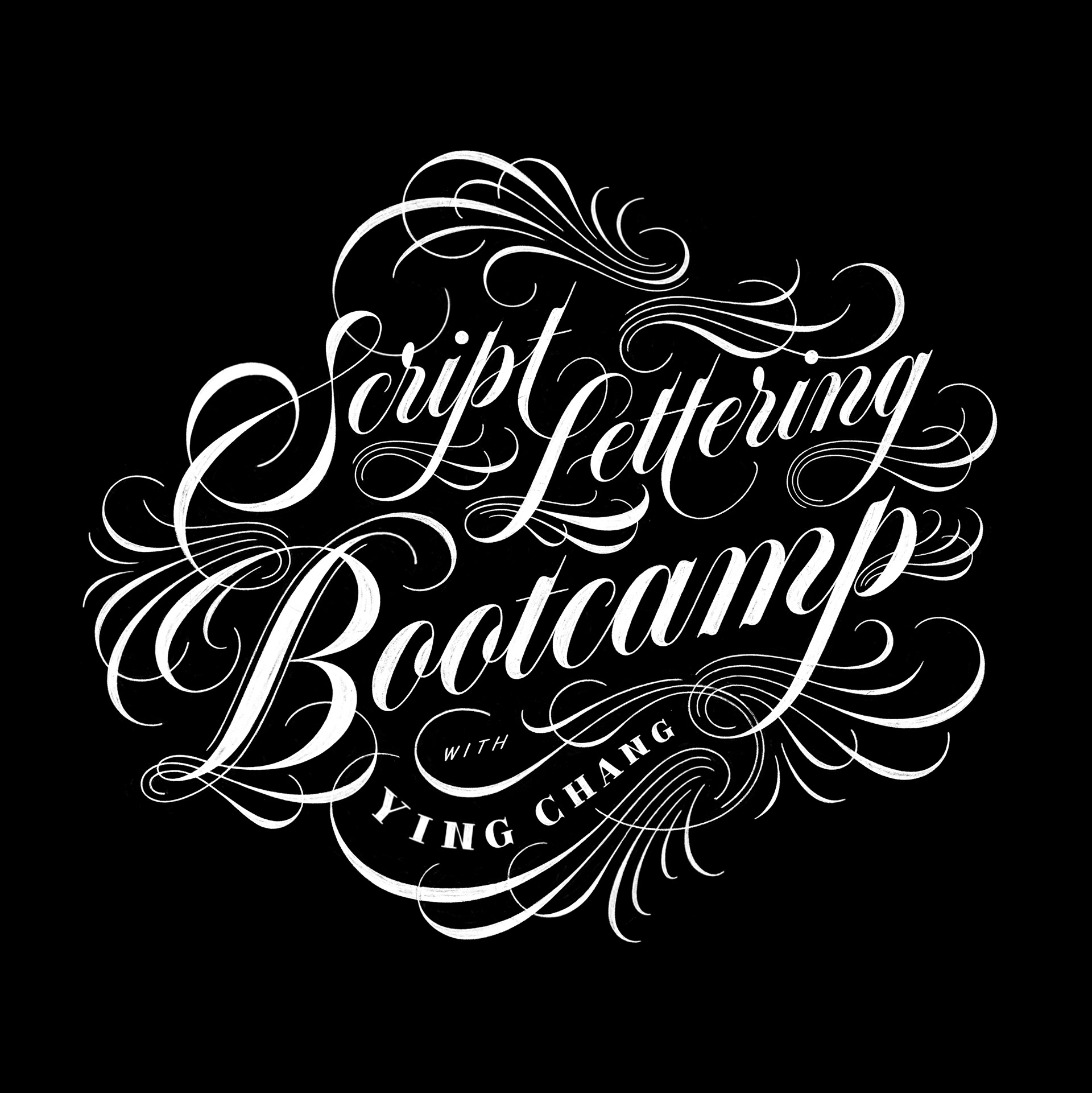 Sat, Mar 27 – Wed, Apr 21, 2021
4 X Saturdays Full-day Workshops: 10 AM - 5 PM EST
March 27th / A

pril 3rd / 

April 10th / April 17th
4 X Wednesdays Observation Sessions: 8 PM EST
March 31st / April 7th / April 14th / April 21st
This bootcamp is tailored for fellow lettering enthusiasts who would like to further their practice in script lettering - We will start with the absolute basic training that would introduce a new perspective in space and shape, then we dive deeper into different styles from historical roundhand to modern script lettering. Most importantly, participants will also expand their critical observation skill in order to continue producing consistent pieces on their own. Furthermore, each student will have the support to focus on the area/style they'd like to pursue and continue to develop throughout and after the bootcamp.
Why a bootcamp? How is a bootcamp different from a workshop?
I am a big fan of attending all kind of classes myself. Although I've always learnt so much from short workshops, I especially appreciate the steady growth I see in me when I take courses that are in longer term because I am one of those who need time alone to digest and study on my own before I learn again. This bootcamp is really an attempt of mine to create the ideal learning program I'd enjoy myself - You learn, you practice and study on your own, we discuss together, you practice and study on your own, you learn more, and repeat!!! 
With this small, intimate format, we will be able to learn more from each other's background, interest, so together we can develop the tailored support for each individual. At this moment, 8 people seems to be a manageable number to me to make sure that I can give each one of you the attention I'd love to offer!
• Marker paper or tracing paper (or any paper that you can see what's underneath) - No smaller than A4/Letter size.
No one should be turned away from education or the pursuit of their passion simply because of the current fund available to them. Please email me at ying@yinglish.net and if space allows, let's 
discuss alternative plans!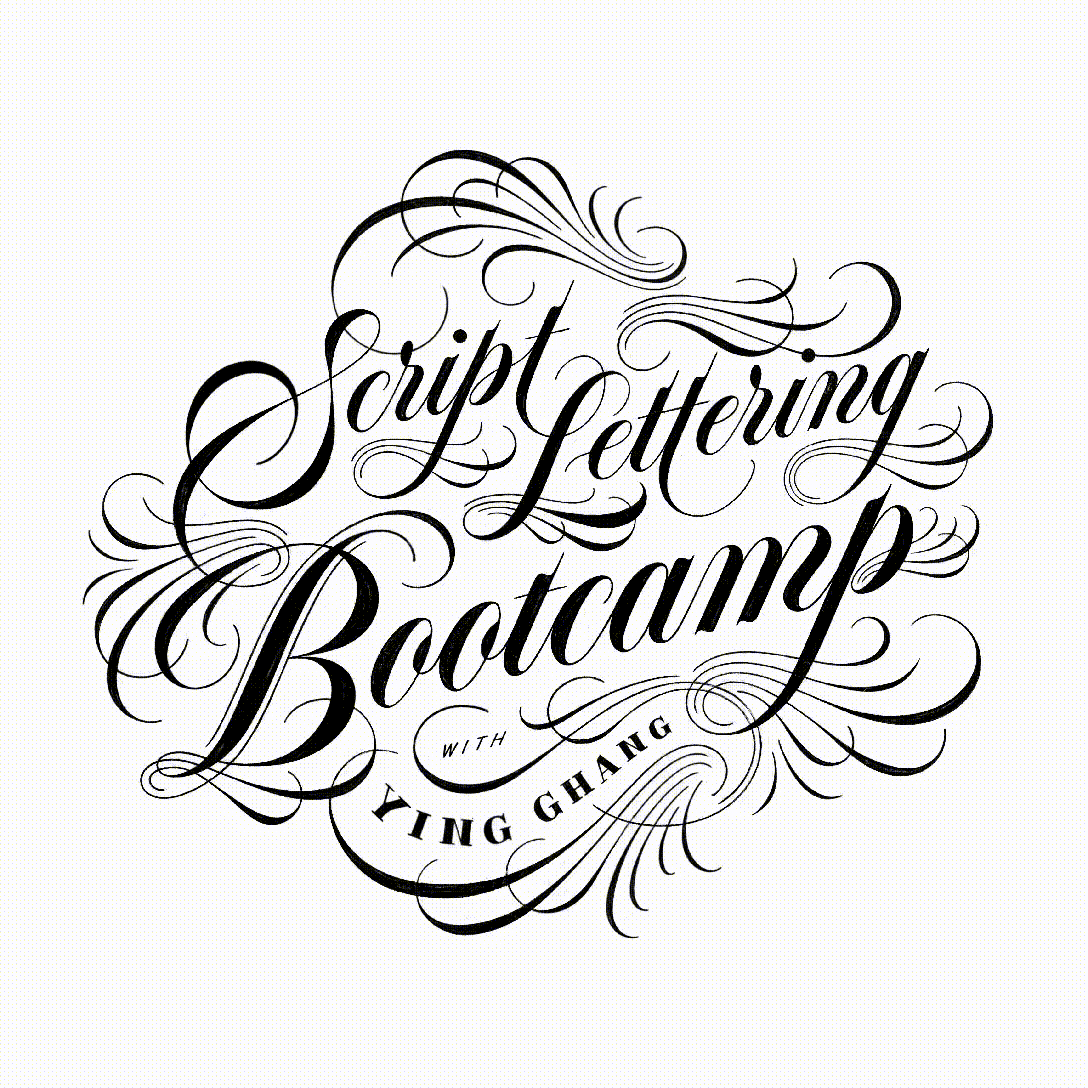 YES. You can choose to draw on an iPad for the most part, but we will be doing practice that can not be replaced with a t
ablet -

You'll still need the drawing materials

 from the list. Please note that there will be no Procreate lesson, neither am I qualified to offer much technical support on it. 
Extensive experience in script lettering is not required but this bootcamp would be most beneficial for those who already feel comfortable drawing letters and are looking to further their practice specifically in script. Although we will be doing some fundamental practices, we will not be studying terminology, letter anatomy, nor spend much time on the introduction/basics of hand lettering itself.
I am new to lettering and I want to learn how to draw script letters, should I take this bootcamp?
I would not recommend this bootcamp to absolute beginners. However,
I am currently planing workshops that would be more beneficial for anyone who's new to lettering
.
 Stay tuned :)
Will you teach me everything I ever need to know in script lettering?
NAHHH. No one can claim to know everything when there is no cap on what there is to learn! If anyone offers you "EVERYTHING YOU NEED TO KNOW" about anything in life, they either mean "everything themself know" at the best, or you should contact your local authority to report fraud! The more I learn, the more I realize how much I still need to learn.
I am honestly just an idiot trying to provide the best attempted answers based on my experiences and background. 
Will you be teaching flourisH in this bootcamp? 
YES. We will be doing flourish in this script lettering bootcamp but not in depth because of the length of this bootcamp - I think Flourish deserves it's own study but don't worry,
we will spend half day focusing on just flourishing itself! 
So I will be able to draw like you at the end of your bootcamp?
Nope!
You will still draw like you - but with the practices we work on together during this bootcamp, you'd have stronger foundation, knowledge to support your own growth in your lettering journey.
Are you doing all this so you can become a cult leader?
Absolutely!
I will assign you a new name and only refer you to this name during the bootcamp. After the bootcamp ends, only those who legally change their names will be able to advance to the next level. If you are comfortable with doing so, or uncomfortable with my horrible sense of humor, it might be wise to unfollow.